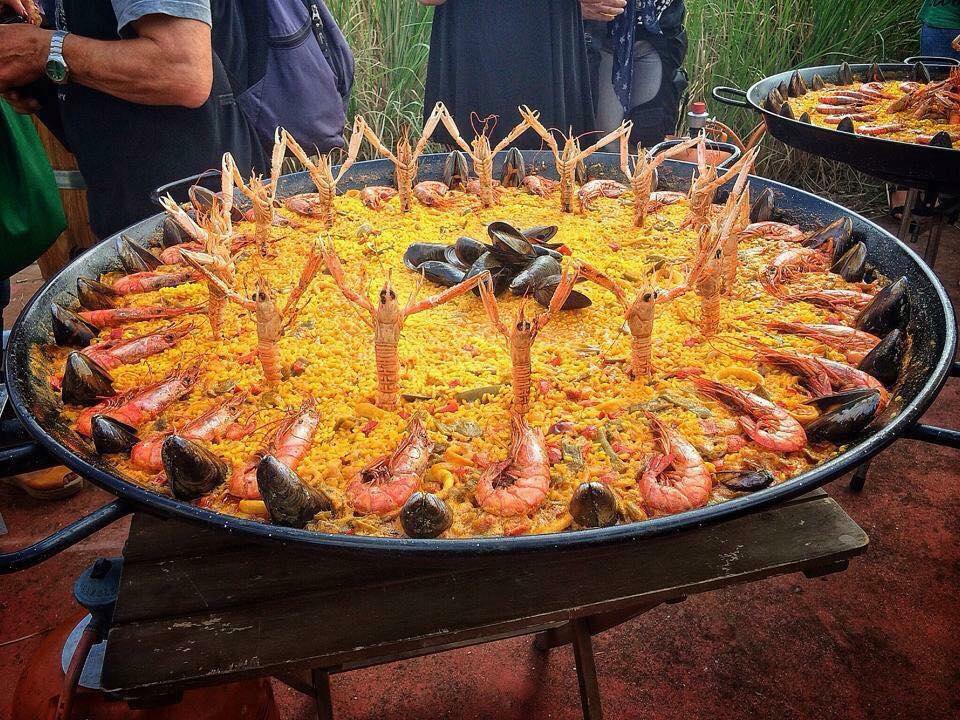 I couldn't resist posting this pic having spent quite some time as a young thing watching Esther Williams doing her thing.
How Norway is selling out-of-date food to help tackle waste
' A new app, foodlist, encourages people to take photographs of food in stores coming to the end of its shelf life, to alert people that it needs to be eaten and where it can be found. A company called SNÅL frukt & grøn has popped up selling wonky vegetables, or odd coloured eggs, with a 30% discount. And the Norwegian government says they want more of this, and quickly.'
This sounds like my kind of app. I am going to try it and will report back ? BUT to make it work I need someone else to download the app as well so we can post to each other. Anyone up for trying it out?
http://bit.ly/2v6TyuP
Invisible Farmer
'Invisible Farmer is the largest ever study of Australian women on the land. This three year project is funded by the Australian Research Council and involves a nation-wide partnership between rural communities, academics, government and cultural organisations.'
This looks like an excellent project. I checked out the blog and got found a blog about IIleen Macpherson, one of twelve Australians that joined Rudolf Steiner's Experimental Circle the Goetheanum and of Demeter Farm in Dandenong which she and Ernesto Genoni established as Australia's first biodynamic farm
https://invisiblefarmer.net.au/about-2-1/
VIIth International Conference, La Via Campesina: Euskal Herria Declaration
'While governments impose seed laws that ensure privatization and guarantee profits for the transnationals, we care for our peasant seeds, created, selected and improved by our ancestors. Our seeds are adapted to our lands, where we use agroecological management to produce without the need to buy agro-toxics or other external inputs. Our peasant agroecology feeds the soil with organic matter, is based on biodiversity, and conserves and recovers peasant varieties of seeds and animal breeds, using the knowledge of our peoples and our Mother Earth to feed us. Its main source is the indigenous, ancestral and popular peasant knowledge that we have accumulated for generations, day by day, through observation and constant experimentation on our lands, shared later in our exchanges from peasant to peasant and between our organizations. Our agroecology has a peasant and popular character; it does not lend itself to false solutions like "green" capitalism, carbon markets and "climate-smart" agriculture. We reject any attempt by agribusiness to co-opt agroecology.'
Wow. My rad heart leapt into my mouth when I read this,
http://bit.ly/2w0qLJ3
Vegans, Vegetarians, and Now, the Reducetarian. What it is and why you'll be hearing more about it.
'Kateman coined the term when he decided to tackle the language surrounding "cheating" vegetarians or vegans – and those who occasionally "fall off the bandwagon". The self-described card-carrying vegetarian was himself called out after accepting a piece of turkey offered while under pressure from those at the dinner table. The moment sparked a keen desire to steer the conversation towards positive discussion about reducing societal consumption of meat.'
And in more trivial news…Gad I hope I won't be hearing more about it – the word, I mean. No quarrel with the notion of reducing intake of meat without going vegetarian or vegan, but having to label this is so…reducetarian.
City dweller avoids the supermarket for a year and lives off the land
'The only exception to the rules were 10 ingredients which Mr Brown bought at the beginning of his challenge, including olive oil, wine, coffee, milk and a staple such as oats.'
Wimp ?
The rise of London's cookbook clubs
'We're trying to encourage people to actually cook from a new cookbook, rather than see it as something pretty with pictures," she continues. "It's a hit if a reader takes three recipes into their repertoire. That's what publishers tell us," says Turner – which makes Prime's prospects look promising. That night Parle and the Dock Kitchen team will dish up five recipes from the book to what sounds like (from the satisfied noises I overhear from fellow diners) pretty unanimous praise.'
I'd like to know whether in fact this translates into people cooking from the cookbooks more. For me, doing this as a convivial act with friends in our homes would sit better.
Hundred-year-old fruitcake found in 'excellent condition' among Antarctic artefacts
'So what do conservators do with a 100-year-old tea cake?
According to the New Zealand-based charity, there was quite of bit of work that went into treating the cake, including rust removal, chemical stabilisation and coating of the tin remnants.
"Deacidification of the tin label and some physical repair to the torn paper wrapper and tin label was also carried out," the Trust said.
After being treated the cake, along with all artefacts found, will be returned to the site.'
Ye gods! Surely SOMEONE should at least taste it first!!!
Why we fell for clean eating
'We are once again living in an environment where ordinary food, which should be something reliable and sustaining, has come to feel noxious. Unlike the Victorians, we do not fear that our coffee is fake so much as that our entire pattern of eating may be bad for us, in ways that we can't fully identify. One of the things that makes the new wave of wellness cookbooks so appealing is that they assure the reader that they offer a new way of eating that comes without any fear or guilt.'
I could have grabbed any of the paragraphs in Bee Wilson's depressing analysis of the dangers, and yes, the benefits when in moderation, of 'clean eating'. But this one it seems to me gets to the core of it – fear and guilt as driving forces in how so many people eat now.
http://bit.ly/2uuEYSj
The Quest for the Perfect Mango Knows No Borders
'It was on the Muslim holiday of Eid that I went to Apna Pakistan to tell the owner that I was taking their Sindhri mangoes home to India. The owner, a middle-aged man in white kurta-pyjama, stood possessively beside the crates of mangoes as I examined each variety in my hands. "If it's for India, you must take Chaunsa then. It's the sweetest, and doesn't grow in India." However, the Chaunsa is indeed grown and eaten across India, especially northern areas. When I revealed this, he was astonished, much the same way I was when I first found the treasure of Pakistani mangoes. Deep in his eyes I could see that perhaps my revelation had broken his heart a teeny, tiny bit.'
A delightful article that leaves me craving to walk through an Indian bazaar in mango season – though the push to link to Partition borders on the tasteless. I have no idea what variety the tree in my front yard is that predates (premangoes?) my stewardship, and I am not the best steward, tho the possums seem to enjoy my laxity in netting the tree, but I am grateful for what I do salvage.
http://bit.ly/2uMB9Uy
The sandwich that ate the world
'In unison, the visitors bite down into the bread's fragile outer shell. A few fire off selfies as the customary explosion of crumbs covers the table. This is how all banh mi experiences begin. The bread gives way to the paté, then homemade mayonnaise, tender ham and cold cuts of pork. Pickled carrot and daikon add sweetness, cucumber brings a cool crunch. Cilantro. Unmistakable. A dash of Maggi Sauce for depth. Every taste bud gets hit. Then comes the chili, like a short, sharp slap in the face. "Wake up sunshine," it says. "You're in Vietnam now."'
A neat history of what is now a staple of Australian fast/street food, tho I have to say that the two rolls pictured in the article wouldn't pass muster at any of my fave banh mi – talk about skimping on the filling – and pardon my pedantry but it is NOT a sandwich, it's a giant among ROLLS!
And here's a question – as the kebab displaced the burger and the banh mi displaced the kebab and the burger is now displacing the banh mi, will the kebab rise again or is there some other one-hand-juice-dripping-onto-your-shirt-late-at-night-after-a-few-bevvies about to hit our streets? The smashed avo on toast is never going to fit the niche.
Where's the best place to find out who your real friends are? The kitchen
'From cooking alongside someone, you can learn whether they are reliable and trustworthy. If we can get dinner for 14 on the table together without fuss or bother I know for certain that this is someone who will get me through the more dramatic events in life. Say, a hostage situation.'
Because right now we could all do with some humour in our lives.
http://bit.ly/2wWfBq4