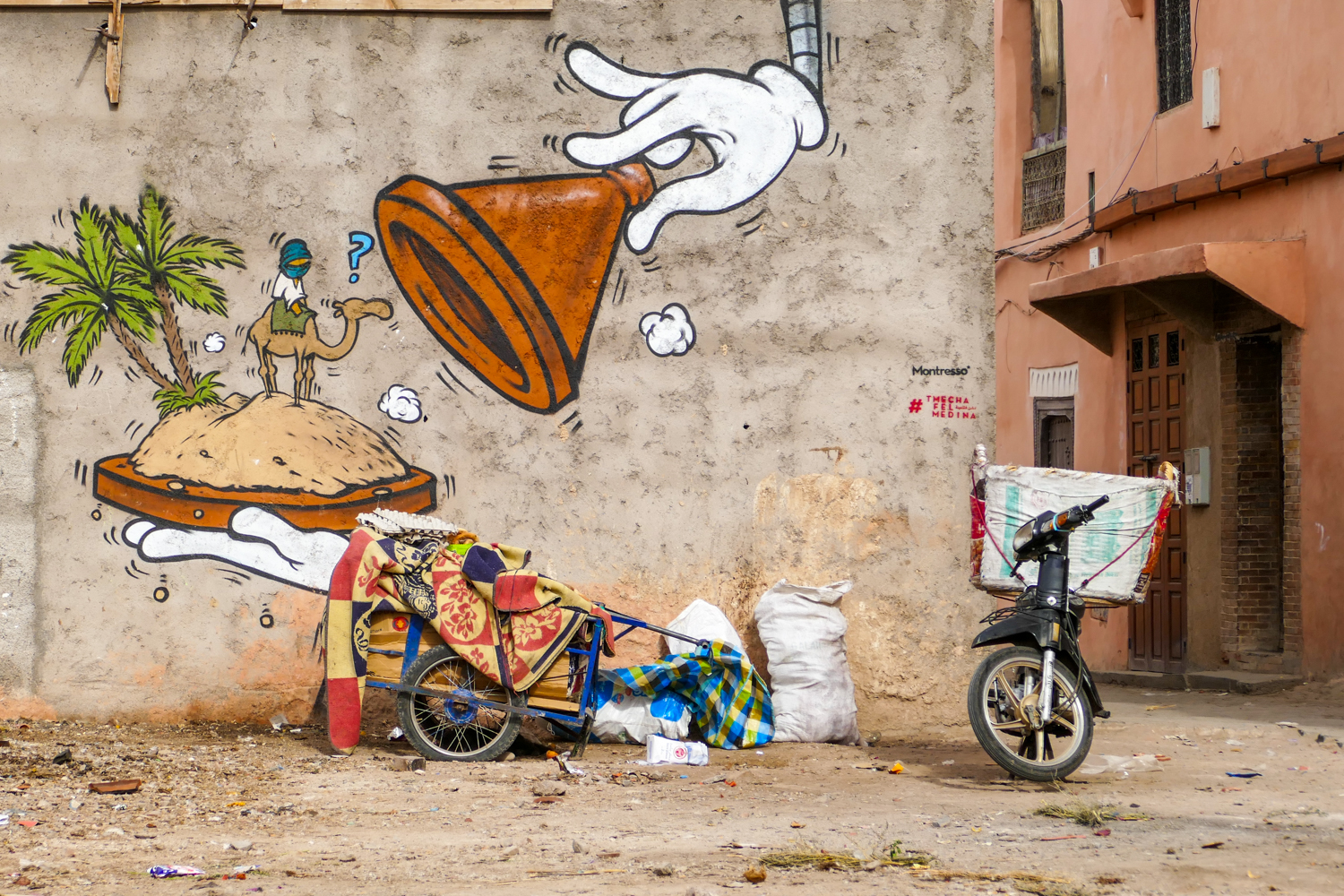 Thanks to my good mate Jim Jenkins for this edition's pic – a delightful mural on a Marrakesh wall bringing welcome relief to reading about Insectageddon, a noise-cancelling ramen fork (truly!) and that clearly no reviewer in Australia was considered 'anthropological' enough to tbe the NYT's Australia 'dining critic'.
Besha Rodell Is the New York Times' Australia Dining Critic
'Rodell says her beat in Australia will be different from the one she covered in LA, describing it as more "exploratory" and "anthropological." She explains: "Here I'm really seeking out the interesting corners of Australian food culture rather than trying to keep up with the ever-changing new hotness of one particular city." Rodell plans to go "wherever the interesting food happens to be." This will include restaurants in Australia's biggest cities, Sydney and Melbourne, but, Rodell says, she's "excited to find places in those cities and beyond that are worthy of deeper consideration."
Which of course no-one in Oz has done/does. Sheesh! I hope her reviews are better than this bullshit.
Why craft beer is going corporate
'When a small brewery sells out to a multinational corporation, consumers can experience something psychologists call "incongruence". Brand congruency happens when everything is aligned – the message, the story, the production, the ownership. So when consumers realise that the artisanal craft beer they are drinking is not owned by small local independent brewer, they will likely become disillusioned.'
If they are realise, that is.
'Authentic' Italian foods increasing in popularity, Nielsen Homescan
'Italian brands perceived as being authentic in the dry pasta, bottled sauce and tinned tomatoes are already attracting a majority of Australian households according to Sarah McKee, Director at Nielsen.'
So…apart from having the word 'authentic' on the label somewhere, where's the proof that any of it is, and what would it mean anyway?
The Canadian Food Inspection Agency has banned meal-replacement product Soylent.
'The Canadian Food Inspection Agency has banned meal-replacement product Soylent.'
Some of us a feeling MUCH safer today – if you get my drift.
Nissin Introduces Noise-Canceling Ramen Fork
'Instant ramen titan Nissin is releasing a limited-edition fork that can detect the sound of noodle slurping and trigger a nearby smartphone to play a recording to mask the food noises. This little device costs around $130, and the Cup Noodle maker is only manufacturing 5,000 of them.'
The ad that goes with the sell of this product is one of the worst examples of cultural cringing I have come across. And that's before you shake your head at eating ramen with something the size of a microphone.
Every Apple You Eat Took Years and Years to Make
'The other parent makes what Brown calls "the ugly apple," a variety that gets scarf skin, a cosmetic problem, and turns almost brown by harvest time. "The ugly apple, most people consider the best apple they've ever eaten," says Brown. The goal of this cross is to pretty it up so that people might want to buy it, without losing its stunning flavor.'
I know, it's pointless to yell, 'give me the ugly apple !!!!' The pics in this article I find depressing – red, red ,red and more red apples and the more red the apple the better apparently/
Of Shrimp and Petroleum
'The 82nd annual Shrimp and Petroleum Festival Mass was supposed to be celebrated in Lawrence Park, but due to fears of inclement weather, it had been moved to Holy Cross Church. When I get there, it is the middle of the sermon. The place is mostly full. In front of the altar there is a table that has the royal crowns. On the left of the crowns is a chalice filled with shrimp. I can't get close enough to see if these shrimp are fresh, cooked, or fake. To the right of the crowns is a small glass pitcher, filled with a murky orange liquid—petroleum, presumably.'
A lovely piece of Americana.
Insectageddon: farming is more catastrophic than climate breakdown
'According to the UN Food and Agriculture Organisation, at current rates of soil loss, driven largely by poor farming practice, we have just 60 years of harvests left. And this is before the Global Land Outlook report, published in September, found that productivity is already declining on 20% of the world's cropland.'
This is almost a throwaway para in Monbiot's piece on the startling findings of a study published this week that flying insects surveyed on nature reserves in Germany have declined by 76% in 27 years, most likely as a result of pesticide use.
Cancer scientists crack the durian genome
'The team's analysis revealed that the durian genome comprises approximately 46,000 genes – almost double that in humans who have about 23,000 genes. Based on the newly generated genomic data, the team also studied the evolution of durian and traced its relationship 65 million years back to the cacao plant which produces chocolate.'
I wonder if they were banned from hotels 65 million years ago. As a durianophile, I reckon its decision to split from chocolate was a good call.