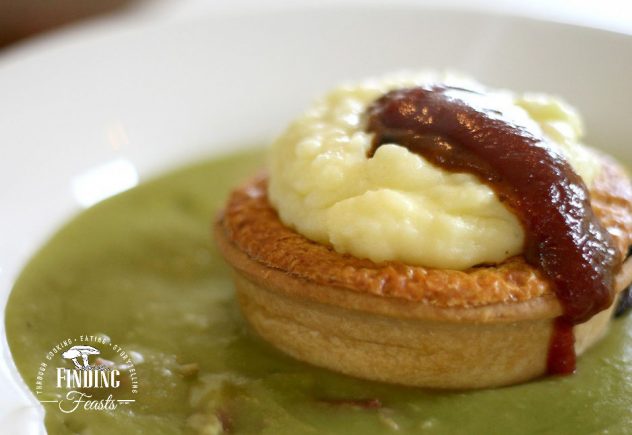 Loved and loathed? How the pie floater became a South Australian gastronomic icon
'The pie floater is as South Australian as frog cakes, Haigh's and Coopers. Once the staple of the late night (and often bleary-eyed) reveller, it has forged its place in the state's history and earned a spot with the National Trust as a heritage icon.'
I confess, I have yet to have a proper pie floater. And 'frog cakes' what the…?!
Post office workers grow vegetables and breed chickens on a Paris rooftop "farm"
'By 2020, the French capital will host more than 100 hectares of rooftop gardens and planted walls, the Paris City Hall said. Of this, one third will be devoted to urban farming.'
Grow your own office lunch – I love it.
http://bit.ly/2x1Zk6C
Weighing up lab-grown steak: the problems with eating meat are not Silicon Valley's to solve
'In many ways, growing meat in the lab is an over-engineered solution to problems associated with current meat production and consumption. Changing public attitudes towards engineered food is often based on the premise that it is biologically identical to meat from a body, but this move from farm to factory might ultimately be a hard sell. And this is probably one of the reasons for so many PR and marketing people in the field are working to bring about this perceptual change.'
The problem this article doesn't come to grips with is that it is not only 'the West's excessive consumption of meat' that is driving this push. Study after study shows that as wealth increases so does the consumption of meat because meat is a marker of wealth. This is true, for example, for migrant communities from poorer nations whose diet has previously had little meat who begin to consume more meat as their income increases in their country of settlement. Eating meat becomes a sign of increasing prosperity, to be blunt, that you are no longer a peasant.
http://bit.ly/2yhIkZ8
Essento introduces insect burgers to Coop supermarkets in Switzerland
'In May, Switzerland was the first European country to pass legislation permitting insects to be bred in regulated conditions and sold purely for human consumption. Essento is one of the first companies to take advantage of this legislation, but what's particularly notable is that they're doing this on a national level. They're not content to test their alternative product in a health food store. Essento is going straight to Coop, one of Switzerland's largest wholesale and retail companies that was also awarded the "World's Most Sustainable Retailer" by German research agency oekom research AG. '
And in a reversal of the valorisation of meat in the previous article comes the move to popularise in the West what 'peasant' cultures have been and still are eating for millennia. Mind you, the minute these hit the shelves here I will be scoffing them down.
http://bit.ly/2i6p7DT
Corn futures, insect farm and a fermentation robot are finalists in the first future food design award
'The mealworm farm, which will soon be shipping to Kickstarter backers and early supporters, is the result of a four-year development cycle from ideation, research, prototype to full production. The project points to the possibility for consumers to develop a more intimate relationship with their food by cultivating mealworms, a reliable source of protein, for use as baking flour, savory ingredient or culinary topping for daily consumption.'
More on the emerging world of insectumophagy. I voted for them.
And why didn't I know about water kefir?
http://bit.ly/2zgVmEz
Is the supermarket business model developing terminal cracks?
'Hierarchical organisations no matter how well optimised, cannot match the agility of local competition that is more organic in nature, adaptable in close to real time, and able to take advantage of the little cracks that result from the siloed management of the legacy organisation. They are simply able to adapt quicker to the changes in the competitive context in which they operate.'
If you can get past some of the businesssplaining the proposition is intriguing.
http://bit.ly/2fJdVc7
Sustainable Salmon Chefs' Charter
'The Sustainable Salmon Chefs' Charter will enable chefs and restaurants to advocate for a salmon industry that guarantees the world best product, with the best possible farming practices and accountability.'
An initiative of Environment Tasmania, a non-profit organisation 'dedicated to the protection of Tasmania's unique environment'. Chris Manfield, Maggie Beer, Matt Moran, Matthew Evans, are among the small group of signees to date.
http://bit.ly/2y2Zt9i
Obesity Was Rising as Ghana Embraced Fast Food. Then Came KFC.
'But KFC's expansion here comes as obesity and related health problems have been surging. Public health officials see fried chicken, french fries and pizza as spurring and intensifying a global obesity epidemic that has hit hard in Ghana — one of 73 countries where obesity has at least doubled since 1980. In that period, Ghana's obesity rates have surged more than 650 percent, from less than 2 percent of the population to 13.6 percent, according to the Institute for Health Metrics and Evaluation, an independent research center at the University of Washington.'
I am prepared to believe that Western colonial powers were not aware of the health damage they wrought with their white sugar, white flour, saturated fats etc. diets which they fed to their colonised peoples. But I cannot accept that neo-colonial industries are not aware that they are deliberately creating markets that endanger health.
http://nyti.ms/2xs7KEw
A Bakery in a War Zone
'Before 2014, Mariinka had over 9,600 inhabitants, shops and banks, a dairy, frozen food and animal feed producers, a home for children whose parents cannot care for them, and the bread factory, which turned out 2000 loaves a day. But the 2014 battle that destroyed the factory damaged practically all industry and infrastructure, as well as stopping the busy daily commute into Donetsk. The gas supply that provided heating is still cut off, the water filtration plant inoperative. Local factories and institutions remain shuttered and ruined. The children's home and adjacent wrecked bread factory are out of bounds, occupied by the Ukrainian army. The social bakery produces around 1500 loaves weekly and employs eight people: bakers, an administrator, and a driver. Two schools, serving 300 pupils altogether, a kindergarten, a clinic and the military-civilian administration provide a few more workplaces. But the vast majority of Mariinka's remaining 7000 inhabitants live entirely on humanitarian aid. Every non-ruined public building is a registration or distribution point for winter fuel, clean water, roofing material and window glass, living allowances, food parcels, diapers, medicines, and second-hand clothes.'
Poignant and sobering. And I love the reveal and quip about the drink they make.
http://bit.ly/2gbUYT4