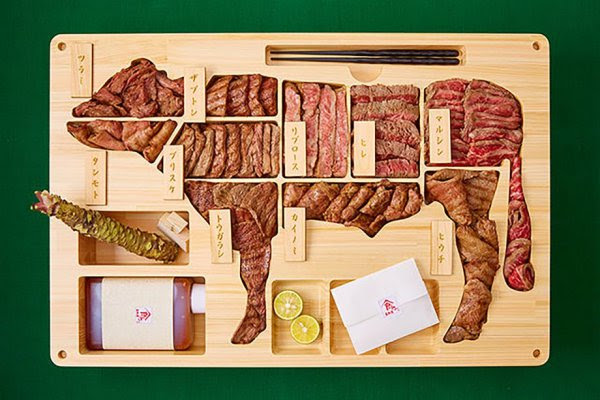 The artists saving traditional knowledge for the next generation
'Story, its sacred traditions and ownership, is intrinsic to the creation of Yolngu country, all its people, animals and plants. Most plants are somewhere in the songlines; one may rate a mere mention while others will have whole songs and long stories dedicated to them. There are many clans. It is not for one clan to tell – in song, dance or in paint on bark – the stories of another. This posed the type of practical artistic problem for Mulkun that would be unimaginable for a non-Indigenous artist.
She explained: "Once I started painting food plants without reference to their sacred identity, I had to find a new way to paint. I could not use the [madayin] min'tji (sacred design) or steal the sacred identity of the plants which belonged to clans other than my own. So I had to find a marwat (cross-hatched background) which was just wakin?u (ordinary) but not just infill. I had to let the plants tell me what their secular identity or character was. By the way they grow or the way they look or express themselves. They gave me their rhythm or their pattern."
A project between English-born landscape artist John Wolseley and Mulkun Wirrpanda, a Yolngu bark painter from north-east Arnhem Land that has clearly been truly 'walking together'.
How One Restaurant Owner Is Fighting for Her Tribe's Cuisine
'Her turning point was in 2007 during an indigenous peoples conference in Ottawa, Canada, where she witnessed how deeply the food culture of the native people there had already eroded.
"Their indigenous foods were already completely erased by white settlers," she says. "I saw fried chicken and hamburgers. It scared me and I remember thinking how I didn't want my own culture to become like that. My old mentality was that I wanted to pursue West[ern ideals]. But now I realized my life work is to decolonize my village. We are Taromak people. We should follow our own culture."
Inspirational.
How a North Carolina Minister Sowed Seeds of Hope in a Food Desert
'Today, the Conetoe Family Life Center—a name befitting the farm's beyond-the-field ambitions—encompasses five different plots that together total 21 acres. Vidant Edgecombe Hospital, the Edgecombe County school system, and a number of area restaurants pay in advance to secure salad greens, peppers, broccoli, strawberries, and other crops. The center's 150 hives generate $10 jars of honey, as well as an alternative income stream from local farmers renting the pollinators.
Proceeds are reinvested in the program. A single market-rate cabbage puts 10 cabbages on the tables of needy families. Approximately 25 percent of the produce is distributed among church members, with those who can afford to contribute subsidizing others who cannot. Health-related outreach continues year-round.'
What another good news story Paul! So I admit, I am a wimp when it comes to stories like this, not setting aside the failings of systems that should guarantee food security, but applauding community effort to mitigate the worst of the practices that lead to insecurity and poor health.
National food waste reduction body to be established
'Chief Executive Officer of Foodbank Australia, Brianna Casey, said a food insecurity strategy is also needed. "A food waste strategy is long-overdue, but we are concerned that it appears to lack the necessary funding to ensure rapid implementation," Casey said. "Nevertheless, it is a great first step in reducing the amount of perfectly edible food that is wasted, particularly given this country's worrying food insecurity problem."
Yep, the body to be established to oversee a yet-to-be detailed national food waste strategy will also have to raise funds to implement strategies.
28 Pie Charts That Show Female Representation in Food
'Since her query, the Times-Picayune piece exposing the toxic culture of the John Besh Restaurant Group — and the following flurry of op-eds and commentary from luminaries and voices across the industry — has made this examination even more relevant than we originally thought. The widespread abuse women in the food world are reporting publicly and privately, is, in my mind, a byproduct of a patriarchal system. When women only hold 21 percent of head chef roles across the country, chauvinist (and dangerous) behavior can go unchecked.'
Anyone know the figures in Oz? It would be fascinating to do a similar set of pie charts. What comparable comps, award could we look at?
When Male Chefs Fear the Specter of 'Women's Work'
'But even in kitchens that have achieved greater equity, like Mistry's, there's always the issue of integrating people from the outside. As a well-known chef and owner, surrounded by a racially diverse, queer-positive staff, Mistry has still had to grapple with employees who cannot conceive of a chef and boss who is not a white man. This is a double bind she says many female chef-owners grapple with. "If you put up with the bullshit talking about women, or someone slapping you on the ass, and then become the boss, shit gets really real," she says of women chefs' career paths when being a chef, especially a head chef, is still so aggressively coded male. "When you experience sexism [as a boss], you discover half the population really has a problem taking orders from you."
Just one quote of many from Mistry and others in a timely article on the 'toxic masculinity' of the restaurant world.
The First Michelin-Starred Hawker Stall Is Expanding to Australia
'Hawker Chan, formerly called Hong Kong Soya Chicken Rice and Noodle, became the first hawker stall to ever win a Michelin star in Singapore's inaugural Michelin guide. And now, owner Chan Hon Meng is taking his signature soy sauce chicken to Australia, Broadstreet reports.'
Sorry, but the very notion that 'hawker stall' would get a Michelin star says to me everything that is wrong with the current fad for street food. And the photo of what's to be on offer frankly does nothing for me either.
Top 10 food predictions for 2018: Packaged Facts
'Packaged Facts says Hawaiian food will become popular in 2018 with spam being added to sushi and loco moco (an open hamburger on rice) taking off'
What, no Hawaiian pizza with the lot! But really, I hope no-one really tries to follow this list – unless of course they create the spam, fig and pistachio meatball in which case I am, as they say, totally there.
Top 5 food trends for 2018: Innova Market Insights
'Beyond the Coffeehouse – There will be a push to make tea as popular as coffee thanks to its health benefits. Innovative tea drinks will be created and tea will be used to flavour many different food products.'
And continuing the theme of the earlier article…Sorry but say for example tea flavoured ox tongue – nah, not there at all. And as for the tea crème bruleee I had the other night – well, let's just say that serving it in a tea-cup was the best of it.
Coles expands its 'Quiet Hour' initiative
'Coles began trialing Quiet Hour at two of its Victorian stores in August 2017. It now will occur at 68 Coles stores Australia-wide every Tuesday between 10:30am – 11:30am.'
I absolutely applaud Coles for doing this, but…I'm not sure what research they did that indicate mid-morning was when people on the autism spectrum shopped. And I hesitate to suggest it but some of the initiatives could be store-wide hour-wide to make shopping in Coles, which admittedly I only do on sufferance, overall a more pleasant experience. Like Playing in-store music at the lowest level; dimming lighting and turning down register and scanner volumes.
Why Would They Make Sour Beer?
'Once upon a time most beers would have had some element of sour to them. That is until Louis Pasteur – the French scientist who in 1864 developed pasteurisation – began to isolate the various types of yeast and bacteria that ferment and shape the flavour of beer. Soon brewers knew how to choose the type of yeast they wanted to introduce to their unfermented beer, thus managing – or removing – its sourness.'
Pasteur has a lot to answer for. Like blah tasting cheese and sweet beer and [please feel free to tell me more]