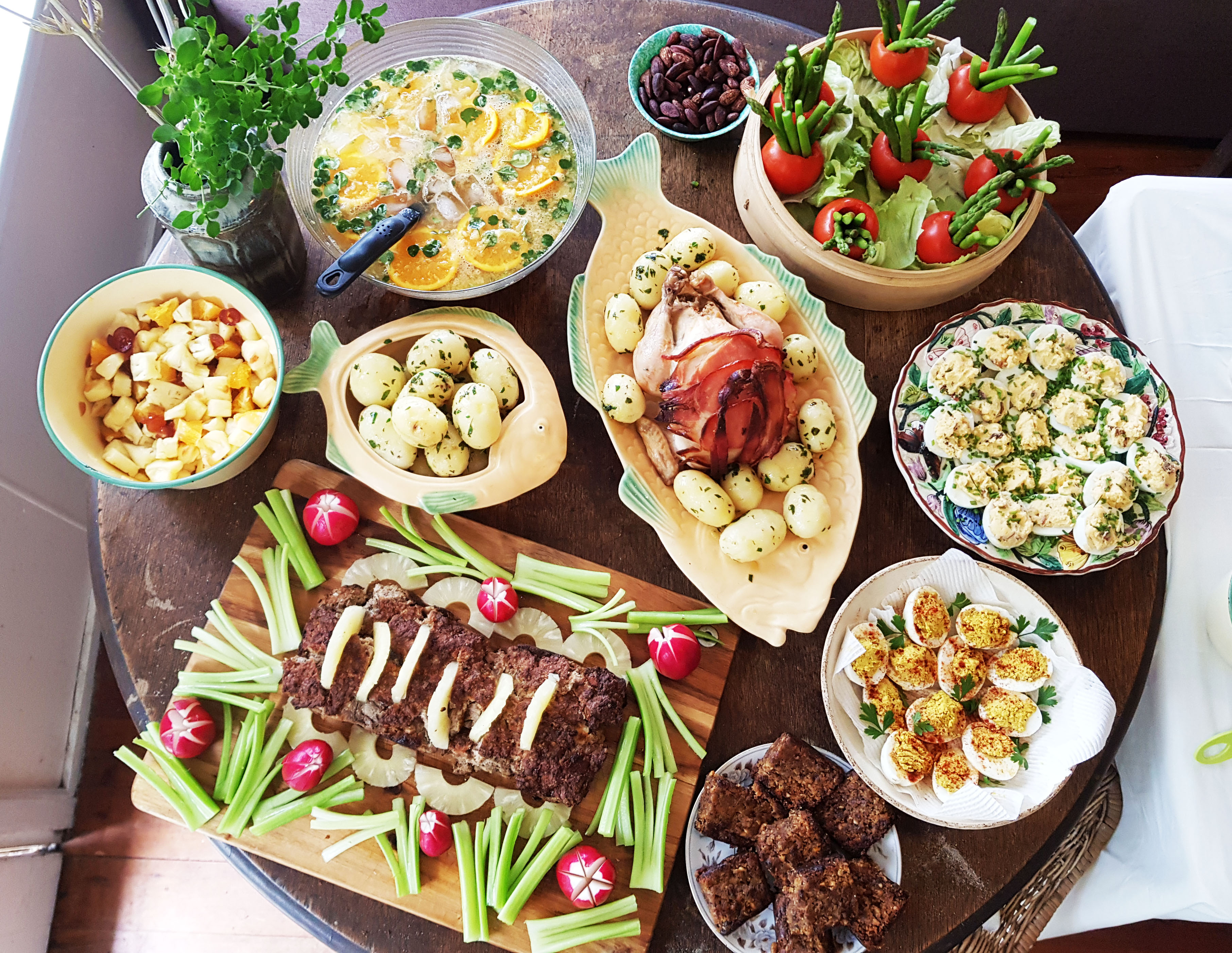 Say the words '50s Australian Christmas lunch' and you will be met with much eye-rolling, gasps, shakes of the head and a litany of recollections of culinary sins (some being kind may call them gaffes) from we who were at table on those occasions.
So it was brave of we happy few that gather each Christmas at my daughter's house in Austinmer to take up my suggestion that the theme for our lunch this year be indeed a 50s Australian lunch.
The recipes were drawn largely from the Australian Women's Weekly, with some interlopers where even the redoubtable WW was found wanting. Adaptations were allowed where ingredients could not be found readily – Austinmer was lacking celery soup powder so French onion was substituted in wafers – or for those with dietary restrictions/preferences – an un-devilled egg for the chili averse – or where a variation on an ingredient didn't stray too far from its original – breadcrumbs with lemon myrtle and oregano instead of marjoram in the meatloaf.
There had been some concern that a suitably wide range of not too bland fare on the one hand or not too eccentric combinations on the other would be difficult to find, the 50s in Australia having a reputation for both. The meatloaf with pineapple was highly skeptically viewed and there was general wariness of the flummeries.
All fears were put to flight on the day with a spread that was not too shabby at all: indeed, tastewise a very satisfying, mythbusting one, whose elements would be welcome at our tables thenceforth.
In the interests in broadening your choices for future Christmas or everyday fare, here are the recipes.
Yuletide Punch
1 ½ cups sugar
1 ½ cups water
1 cup crushed pineapple and juice
1 cup medium strength black tea
¼ cup passionfruit pulp
3 lemons, juiced
6 oranges, juiced
1 ½ pts soda-water, chilled
Slices of orange and cucumber
Mint leaves
Method
Place sugar, water, pineapple and juice in saucepan, bring to boil, simmer 10 minutes, cool. Add tea, passionfruit pulp and strained lemon and orange juices and stand for 2 to 3 hours. Add child soda-water. Serve with floating thin slices of cucumber and orange, and mint leaves.
Meat and pineapple loaf
1k diced lamb
500g pork belly, good and fatty
1 onion chopped fine
1dstp grated lemon rind
1 cup soft breadcrumbs
1 egg
1 small can pineapple circles
3 tbsp. pineapple syrup
Sprinkle of oregano (fresh is best – finely chopped leaves; but good quality dried will pass)
Salt and pepper
Method
Remove bones from pork. Mince the pork and lamb in a blender or mincer. In a big bowl mix together all the ingredients except the pineapple pieces. Put the mix into a greased loaf tin and bake at 180C for 1 hour. Chill. Before serving make gashes in the meatloaf at intervals (don't cut right through) and insert half a pineapple slice in each.
When I made it, the only breadcrumbs I could find in the local grocer were, mixed with crushed dried lemon myrtle leaves which worked well with the lemon rind to give the meatloaf a lift.
Also, I cut the skin off the pork belly and used it to line the base of the baking tin to add more pork fat to the meatloaf.
Serving suggestion
Put the meatloaf on a big breadboard. Put extra half slices around the base of the meatloaf – giving it a sort of scalloped edge. Then place open quartered round red radishes and split curled celery pieces around the meatloaf.
Celery and radish curls
Celery stalks
Round red radishes
Ice water
Method
Wash celery and radishes, cut roots and green foliage from radishes, cut celery into 2 to 21/2-inch lengths. Cut radishes from points practically to base making four to six sections. Places in ice water to separate and curl. Cut each celery length form one end to within 1/4inch of other end several times, making cuts about 1/8in apart. Place in ice water to curl.
Roast chicken
1 chicken (a 2kg chicken will do for seven people)
2 ½ cups seasoning/stuffing
2/3 slices bacon
Method
Rinse the chicken under a running tap, then pat dry with a clean dishcloth or paper towels. Fill the body cavity with seasoning. Truss – that is, sew up the opening into the body cavity. Steam the chicken for 1 hour. Grease a big piece of brown paper or baking paper with oil or butter. Pat the chicken dry and put it on the paper breast side up. Put bacon slices across the breast. Wrap and tie up the parcel. Put the chicken parcel on a rack in a baking dish with about 1.5cms of butter or oil in the base of the dish. Bake at 180C for 11/2 to 13/4 hours. You can take the paper off the chicken for the last ½ hour if complete browning the skin. Serve hot or cold.
Steaming options
You can put the chicken in a covered saucepan with 11/2 cups water or in bamboo steamer in a wok, with the chicken and lip of the wok covered with silver foil to keep the steam in.
Tomato and asparagus salad
6 medium sized tomatoes
2 doz thin fresh asparagus spears
Lettuce leaves
Parsley or watercress
Salad dressing
Method
Remove the centre from each tomato, scoop out all the flesh right back to the inner part of the skin. Steam the asparagus. Put two or three asparagus spears into the centre of each tomato – you may want to cut them so they fit nicely and fully. Arrange on a bed of lettuce leaves. Shop parsley or watercress fine and dust the whole dish with it. Chill.
Serve with your choice of salad dressing on the side.
Note: If you want to go for that authentic 50s vibe, use canned asparagus.
Devilled eggs
6 eggs
1-2 tsps. Keens Curry Powder
A little butter
A little milk
A pinch paprika
Method
Boil the eggs and let them cool. Peel, then cut lengthwise and scoop out yolks. Mix yolks with a slice of softened butter and the Keens Curry Powder. Add milk to moisten. Spoon the yolk mixture back into the whites of the eggs. Sprinkle with paprika.
Note: If, poor soul, you are somewhere where Keens Curry Powder is unknown, then by all means use another, but it must be bright turmericked yellow.
Un-devilled eggs
13 eggs
1 potato
2 rashers of bacon
Butter
Cream
Salt and pepper
Chives
Method
Boil a dozen eggs, cut in half lengthwise and scoop out yolks. Mix yolks with one boiled potato (peeled), butter and cream to moisten. Crisp two rashers of bacon and crumble into mixture. When cool mix in one raw egg yolk and season. Put mixture into halved eggs. Serve or refrigerate, garnish with chives.
Fruit salad
Half cup diced pawpaw
½ cup diced pineapple
½ cup diced peach
½ grapefruit
Frosted mint leaves
A few glace cherries or strawberries.
Method
Mix well together, chill 1 hour.
Note: The Women's Weekly version of this is intended as a starter to the whole meal, with the fruit 'cocktail' being spooned into tall glasses. We couldn't come at that and had it as dessert.
Onion wafers
I large cup oatmeal
1 cup plain flour
1 packet French onion soup mix
1 tsp salt
1 tsp baking powder
4 tbsp. shortening (or butter)
A little cold water
Method
Sift the dry ingredients. Rub in the shortening or butter to a dry dough with a little cold water. Roll to a thin sheet and cut into small wafers. Bake At 180C until crisp and pale brown. Let them cool before serving. Excellent on their own or as dipping or spreadable biscuits.
Raspberry flummery
1x 85 g packet raspberry jelly crystals
1cup boiling water
1 x 375 ml evaporated milk, chilled
Fresh raspberries
Method
Combine jelly crystals and boiling water in a medium bowl. Stir until fully dissolved. Cover and refrigerate until the consistency of a thick syrup (1-2 hours). Beat evaporated milk with slightly set jelly on high speed for approximately 5 minutes or until doubled in volume. Should be thick and glossy. Spoon into individual serving bowls, cover and refrigerate for a further 2 hours or until set firm. Serve with fresh raspberries.
Passionfruit flummery
3tsp gelatine powder
300ml thickened cream
2 eggs
1/4 cup caster sugar
8 passionfruit plus extra passionfruit pulp, to serve
2tbsp warm water
Method
Put 2 tablespoons warm water in a heatproof bowl and sprinkle over 3 teaspoons (7g sachet) gelatine powder. Bring a saucepan of water to the boil. Remove from heat. Sit the bowl of gelatine in the water, stir until dissolved. Remove bowl and set aside at room temperature. beat 300ml thickened cream until soft peaks form. Use clean beaters to beat 2 eggs and 1/4 cup (60g) caster sugar until pale and thick and a ribbon trail forms when the beaters are lifted. Fold egg mixture through cream. Fold in gelatine and pulp from 8 passionfruit. Spoon into 6 x 3/4 cup (185ml) serving glasses and chill for 4-5 hours. Serve with extra passionfruit pulp.