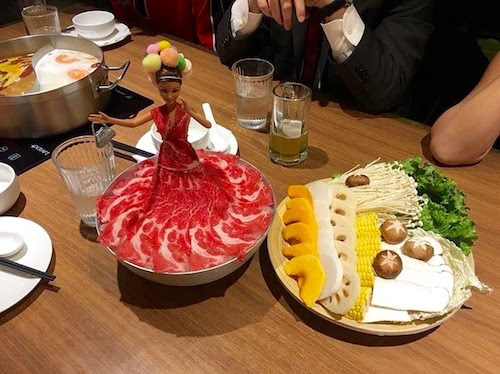 It's been slim pickings at the Compost office the last few weeks hence the somewhat delayed diggings, so I hope the Barbie rib-eye skirt (courtesy of Eater) makes up for it. And it's a great reminder to get your proposals in for the 22nd Sympoisum of Australian Gastronomy with its theme 'Out of Place' – not that I am suggesting that a Barbie rib-eye skirt would be out of place at my table.
http://www.gastronomers.net/symposium-archive/symposium-22/call-for-proposals/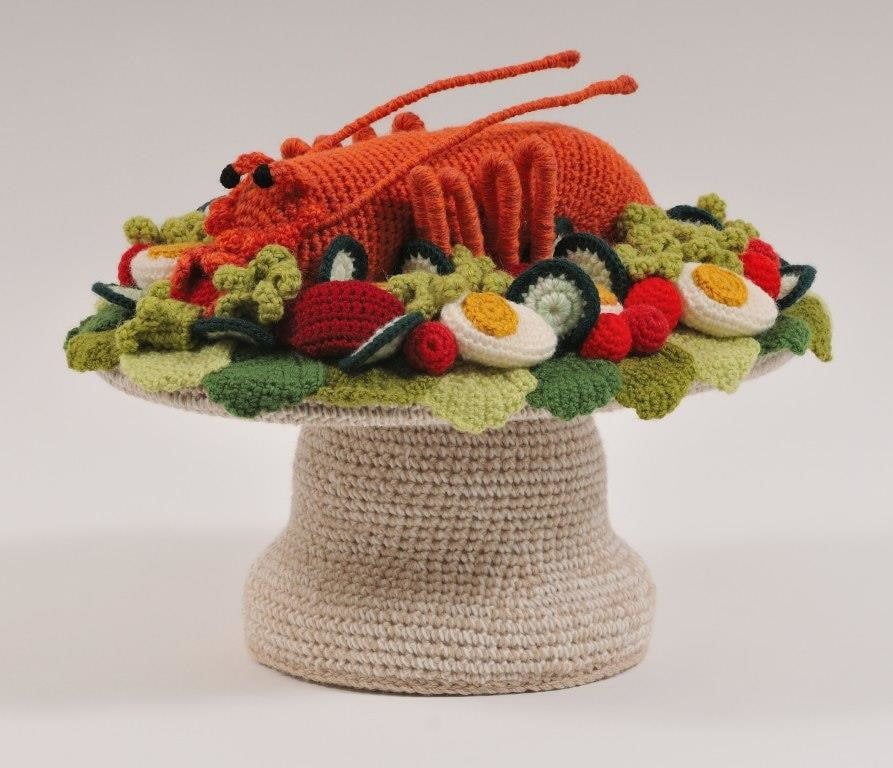 Feast Your Eyes on This Glorious Crocheted Food
'He started his food series for an exhibition last year at the Michael Reid Sydney gallery. Smith says he had already been imagining how to make his lobster platter piece for years. The exhibition, which was retro-domestic themed, was the perfect stage for Smith's soft, sculptural creations, which also include a black forest cake, a crown roast, and even vintage appliances.'
As a knitter and food art lover how could I not promote Trevor Smith's work.
Woolworths cuts out in-store butchers, shift to centralised processing
'Woolworths is set to cut a number of in-store butcher positions as the supermarket moves away from processing meat in-store.'
No more feasting your eyes on the blades as they slice expertly into haunches of meat. And when it's all lab grown there won't even be a need for centralised processing – nor butchers.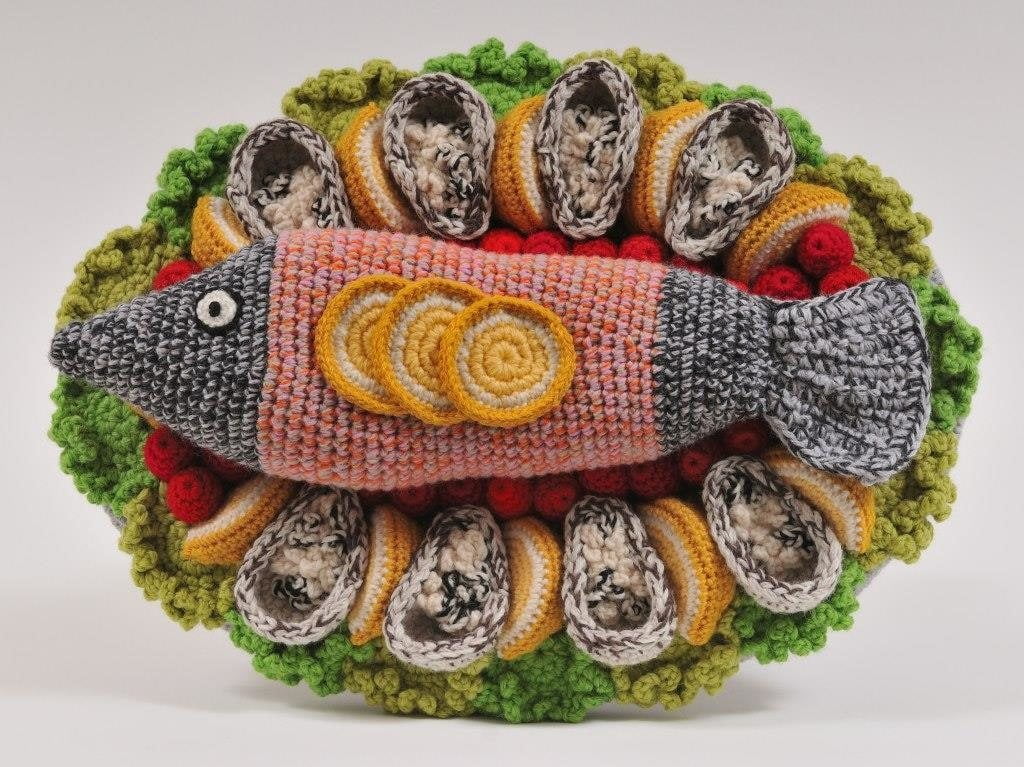 World's Largest Salmon Lox Bagel
At noon today, Acme Smoked Fish and Zucker's Bagels began creating the world's largest bagel and lox sandwich at the Acme headquarters at 30 Gem Street in Greenpoint, Brooklyn
Not that I am sizist and I don't like to kvetch, but really, that's the best the could do?
The price of your pizza, pad Thai or butter chicken depends on your postcode
'Residents of the north shore and northern beaches of Sydney are paying up to twice as much for home delivered food as people in the south and west.'
Well, that's unexpected…no really, I would have thought the price gouging would be all in Western Sydney. What if we compared these figures with the volume of these foods eaten in the various suburbs. I wonder if we would find that you can afford to charge less in non North Shore suburbs because you get more volume elsewhere. Not that I want to stereotyping, but it would be interesting to see where these foods fitted in the overall food profiles of the various suburbs.
The Toxic Saga of the World's Greatest Fish Market
Last September, Yuriko Koike, the newly elected governor of Tokyo, held a press conference to announce that the necessary improvements never actually happened. Koike, the former environmental minister, revealed that not only was the soil still loaded with arsenic, cyanide, hexavalent chromium, cyanogen, lead, and benzene from the gas company's tenure, but the protective layer of topsoil was never added beneath the Toyosu site in the first place. Instead, contractors created hollow concrete chambers in place to separate the dirty soil from the ground floor of the market. The public and vendors alike had been duped, and now a very real danger was present in the new space. The move was immediately tabled, barring new soil testing. "At this point, we still can't say the relocation is a sure thing," Koike told reporters, noting that the delay would, obviously, impact preparations for the Olympics. "It is regrettable the delay has caused so much trouble, but right now the most important thing is to ensure safety."
And let's not even begin to talk about how many plans have been made to move the Sydney Fish Market…